World-renowned playgrounds and parks, bourbon distilleries and many local eateries and museums. There's no shortage of fun things to do in Owensboro, Kentucky. Whether you want to enjoy the outdoors and nature, see the city's history and rich culture or stuff your face with a Kentucky Hot Brown, we've got a whole bunch of ideas for you to do.
In this post, you'll find all the best things to do in Owensboro including outdoor adventures, local eateries and museums for the kids. Enjoy our amazing river city, eat some world-famous BBQ and have some fun in our town.
Ready to find something to do in Owensboro? Keep on reading to find your next adventure.
List of things to do in Owensboro, Kentucky
Things To Do In Owensboro: Parks & Playgrounds
Below are a listing of parks and playgrounds in Owensboro.
Smothers Park
Your first stop in Owensboro should be Smothers Park, an outdoor city park and recreational area located in downtown Owensboro along the Ohio River.
The park was founded in 1816 as a city park but underwent a multi-million dollar remodel in 2012. Smother's Park is named one of the best playgrounds in the world by Landscape Architect Network and is one of the many amazing parks in the county.
Smothers Park features 3 amazing water fountains along with a cascading waterfall available during the season.
It spans a large section along the riverfront with beautiful views of the Ohio River and the border of Indiana. With swinging benches all along the pathway, you can walk, take a break and enjoy the view as barges run up and down the river carrying coal, gravel and grain.
If you look East, you'll see the famous Owensboro Bridge (locals call it the Blue Bridge). At night, the continuous truss bridge lights up in vibrant colors and is a must-see if downtown after the sun falls.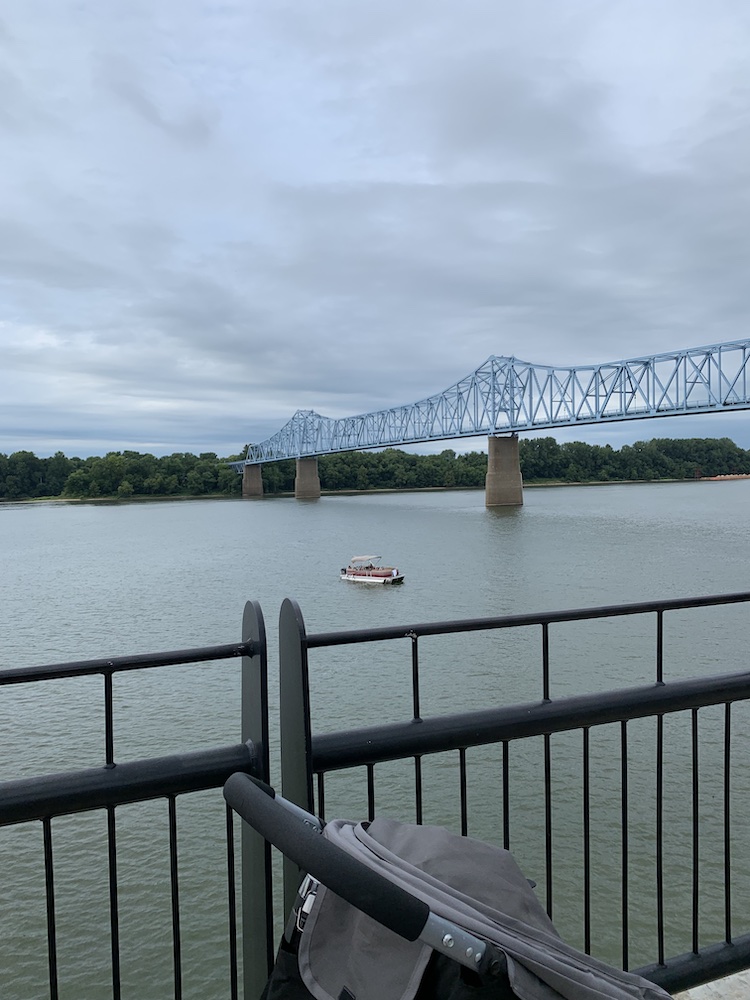 While you are sitting watching the river, your kiddos can play on one of the world's best playgrounds, Lazy Dayz Playground. It has monkey bars, slides and courses for all ages of kids.
During the summer, the spray park is open and allows the kids to cool off.
There are concessions on site where you can purchase, drinks, snacks and more.
The park is open 7am to 10pm daily.
The address for Smothers Park is 199 W Veterans Blvd.
Yellow Creek Park
Yellow Creek Park is a large 152 acre park about 10 minutes northeast of Owensboro.
The park features a large fishing lake that is stocked by the Kentucky Department of Fish and Wildlife with many fish species such as catfish, bass and bluegill.
If you have kids and need a playground, there are multiple different playgrounds for all ages in the park. Additionally, there's a small splash park for kids to cool off during the hot and humid Kentucky summers.
The Jim Lambert Pioneer Village is located within the Nature Center at Yellow Creek Park. It features multiple log cabins from the 1800s that showcase how our ancestors lived.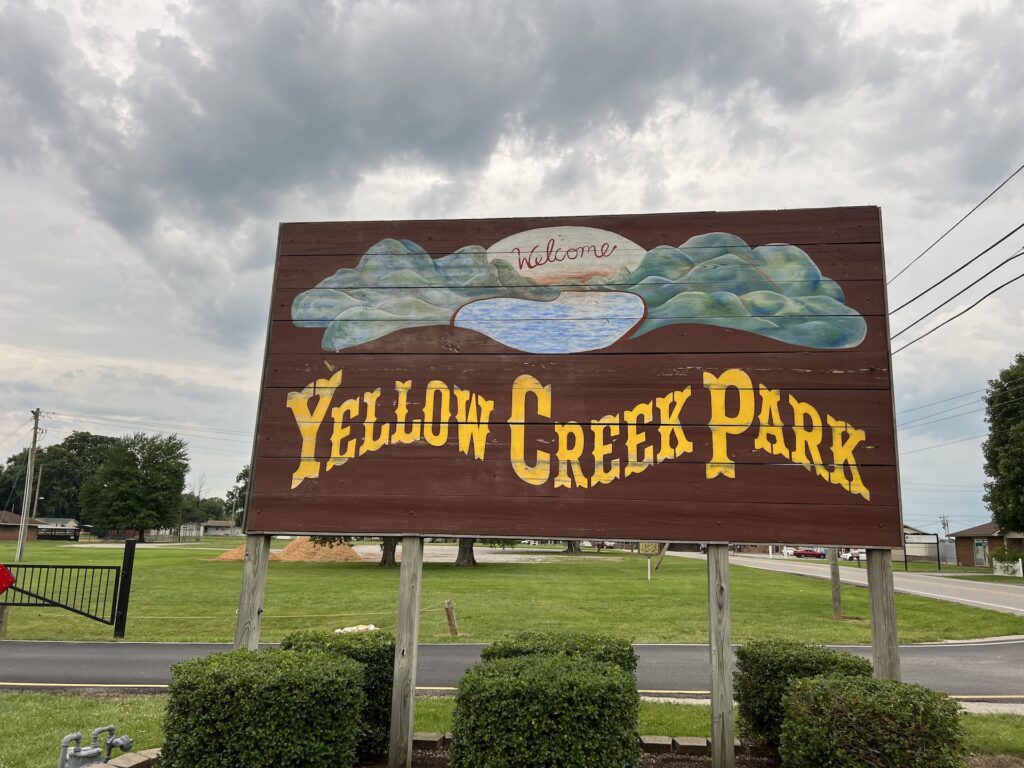 There's also an old log barn as well as a school house from the early 1900s. It's a great history lesson for kids and lets them walk around to expel some energy.
After the log cabins and old barns, make sure to take the nature walk on a gravel pathway. There are educational signs showcasing local trees. You never know what you might find on a nature walk in Kentucky.
ROMP is a bluegrass music festival held every June at Yellow Creek Park. If you are in the area during that time, it's a must see event if you like bluegrass music.
Yellow Creek Park address is 5710 Hwy 144 on the east side of Owensboro.
Legion Park
Another amazing park in the city limits is Legion Park. This is the oldest park in the city and has 24 acres of outside nature to enjoy.
If you are looking for a park that has a lot of huge shade trees, then this one is for you.
Along with other city and county parks, Legion Park also has a splash pad that allows the kids to cool off during those hot, humid Kentucky summer days.
There's a paved walkway that's 1/2 mile long and weaves through the large native Kentucky trees.
The park has a large playground area as well as multiple picnic shelters and restrooms.
Legion Park is located at the corner of Byers Ave & JR Miller Blvd.
Things To Do In Owensboro: Museums
There are plenty of museums in Owensboro, let's take a look at which ones you should visit.
Bluegrass Music Hall of Fame & Museum
Owensboro is known as the bluegrass music capital of the world. Right down the road in Rosine is where Bill Monroe, the father of bluegrass music was born.
The Bluegrass Music Hall of Fame & Museum in Owensboro is a music haven that showcases the soulful sounds of Kentucky's rich musical heritage.
When you step inside the museum you get to read stories of the history of bluegrass music and listen to melodies from the early days of bluegrass music.
As you walk through the exhibits, you'll be transported back in time, tracing the roots of this beloved genre and the incredible musicians who have shaped its legacy.
From interactive displays that bring the music to life to treasured artifacts that celebrate the legends of bluegrass, the Bluegrass Music Hall of Fame & Museum is a true celebration of the genre's profound impact on American music culture.
We are happy to have this museum in Owensboro and want to welcome you to enjoy bluegrass music with us.
Tune your ears to the twang of banjos and the sweet harmonies of fiddles as we embark on a journey through the heart and soul of bluegrass music in Owensboro!
311 W 2nd St, Owensboro, KY 42301
Owensboro Museum of Science & History
Nestled in the heart of downtown Owensboro, Kentucky, this captivating museum offers a delightful blend of scientific wonders and captivating historical narratives.
It's perfect for children as well as families and adults of all ages.
As you step through its doors, prepare to embark on a journey through time and space, exploring the fascinating realms of science, culture, and heritage.
The front lobby is a favorite exhibit of our kids as there's an interactive train set where you can press the button and make a train stop or go on a train track. There's also a large fish tank with local fish species for kids to enjoy.
On the top floor, there's a huge playground where kids of all ages can climb, slide and crawl through tunnels.
From interactive exhibits that ignite the spark of learning to engaging displays that showcase the rich history of the region, the Owensboro Museum of Science and History is a treasure trove of knowledge and inspiration.
The museum is very cost-efficient and only costs a $5 entrance fee. Children 2 and under are free.
Owensboro Museum of Science & History is located at 122 East 2nd Street in downtown Owensboro.
Website – https://owensboromuseum.org/
Things To Do In Owensboro: Adventure
Ride the Owensboro Trolley
If you come to Owensboro, there are plenty of free things to do without spending a dime. One of those things is the Owensboro Trolley.
Riding the trolley is a free and convenient way to get around downtown Owensboro.
If you need a ride from your downtown hotel to the local historic shopping district, check the trolley schedule so you can hop on and hop off where you need.
The trolley is for both tourists and locals. So if you're from out of town and need some assistance on where to go eat, the person right beside you might be able to help.
The bus looks like a historic trolley and has multiple stops in the downtown area every 20 minutes.
Rides are available on both weekdays and weekends. You can check out the full schedule here – https://transit.owensboro.org/trolley/downtown
The Owensboro Trolley has been a staple in the town for years and is a must-do thing in the city.
Edge Ice Center
Edge Ice Center is only one of the 4 ice rinks in the state of Kentucky. We are lucky to have it here in Owensboro.
The new facility was built in 2009 to replace the original Owensboro Ice Arena. It has a 17,000 square foot ice surface.
The Edge Ice Center is open year round and offers public skating, birthday parties and private events, skate classes and more.
There is a full concession on site and offers food, snacks and drinks to enjoy.
The Edge Ice Center is located at 1400 Hickman Ave.
Western Kentucky Botanical Garden
Located near downtown Owensboro, the Western Kentucky Botanical Garden is where you can immerse yourself in a garden of beauty across 12 acres of meticulously crafted landscapes.
Wander through themed gardens, including a captivating rose garden and a children's garden.
Explore historic buildings, including a country doctor's office and marvel at a record-setting basket sculpture.
Be astounded by the garden's extensive collection of hybridized daylilies.
This is a perfect outdoor trip for kids, families and people of all ages.
Plan your visit to the Western Kentucky Botanical Garden and unlock the secrets of this captivating botanical artistry and historical charm.
2731 W 2nd St, Owensboro, KY 42301
Diamond Lake Resort
Just outside of Owensboro 11 miles to the west is Diamond Lake Resort.
For water enthusiasts and outdoor adventurists, Diamond Lake Resort is a dream come true.
Spend your hot and humid Kentucky days splashing and swimming in the refreshing waters of Diamond Lake. The resort's waterpark is a highlight, featuring three water slides, interactive splash pads, and relaxing pools, guaranteeing endless fun for kids and adults.
Whether you're racing down the slides or lounging by the pool, the waterpark is the perfect spot to beat the summer heat.
If you are looking for a place to stay in Owensboro, Diamond Lake Resort has many different ways to sleep: motel, tent camping, RV sites and cabins.
Diamond Lake Resort is located at 7301 Hobbs Road Owensboro Kentucky
Green River Distilling Company
Along the banks of the Ohio River, this iconic distillery holds a legacy that spans over a century.
When you step foot inside, the rich sweet aroma of aging bourbon fills the air.
The Green River Distillery is not just a place to savor the finest spirits, it's a journey through the storied past of Kentucky's bourbon making heritage.
Learn how the bourbon is distilled, witness the craftsmanship that goes into each batch and enjoy the captivating history that makes the Green River Distillery a local historic tour.
Also, check out our guide on the best breweries and distilleries in Owensboro.
10 Distillery Rd, Owensboro, KY 42301
World's largest Sassafras tree
See the world's largest Sassafras tree right here in Owensboro. The tree is approximately 300 years old and located on one of the busiest and main streets in Owensboro.
The tree is 100 feet tall and 21 feet in circumference.
The average Sassafras tree stands about 30 – 50 feet tall.
2100 block of Frederica Street, Owensboro, KY
Owensboro walking tour
One of Owensboro's only walking tours is the Haunts of Owensboro. The 1.5 hour tour will feature many historic buildings in downtown Owensboro with a tour guide showcasing the rumored haunts.
You will hear ghost stories and see some of Owensboro's most haunted places: Trinity Center, Daviess County Courthouse, Owensboro Science Museum and others.
Tours are only available on Friday and Saturday nights and start at 203 W 4th St.
Call 270-313-5596 for reservations.
Things To Do In Owensboro: Shopping
Byron & Barclay
Experience local shopping in downtown Owensboro.
This charming retail haven is a treasure trove of unique finds and one of a kind fashion pieces. Owned by the local husband and wife team Jeremy & Jessica Woods.
Whether you're on the hunt for one-of-a-kind gifts, stylish fashion pieces, or artisanal goods, Byron and Barclay has something for every taste and style.
Stop by and see Jeremy and Jessica at Byron and Barclay. Support our downtown where small businesses thrive and local charm shines through.
Byron and Barclay is located at 121 East Second Street.
Owensboro Trading Post
One of my personal favorite stores in Owensboro when I'm looking for home decor, antiques or just something unique is the Owensboro Trading Post.
When you step in the old building, you stand in awe when you walk in the front door.
You could get lost easily in the store. From the old antique furniture to the thousands of knick knacks from the last two centuries, The Trading Post has something for everyone.
Need a specialized tool or a certain size socket you cannot find elsewhere? I'm pretty sure you can get it at The Trading Post.
The building is jam packed with vintage finds such as antiques, old fishing lures, a multitude of tools, wooden chairs, old chests, wall clocks, mirrors, vintage fans, toy cars and trucks and many antique and vintage signs.
If you are in the Owensboro area, The Trading Post is one of my most recommended places to visit.
Note: They only accept cash or check. No debit cards.
The Trading Post is located downtown at 420 Breckenridge Street.
Things To Do In Owensboro: Eat & Drink
Colby's
A local favorite that has been serving up delicious comfort food and southern hospitality for generations.
Whether you're craving mouthwatering barbecue, tasty burgers or savory comfort classics, Colby's menu is a culinary journey through the rich flavors of the South.
204 W 3rd St, Owensboro, KY
Moonlite BBQ Inn
One of my personal favorite restaurants in Owensboro and a staple BBQ joint in Western Kentucky, Moonlite BBQ is a must visit while in town.
The large buffet features all the sides and all the meats you could want to satisfy your cravings.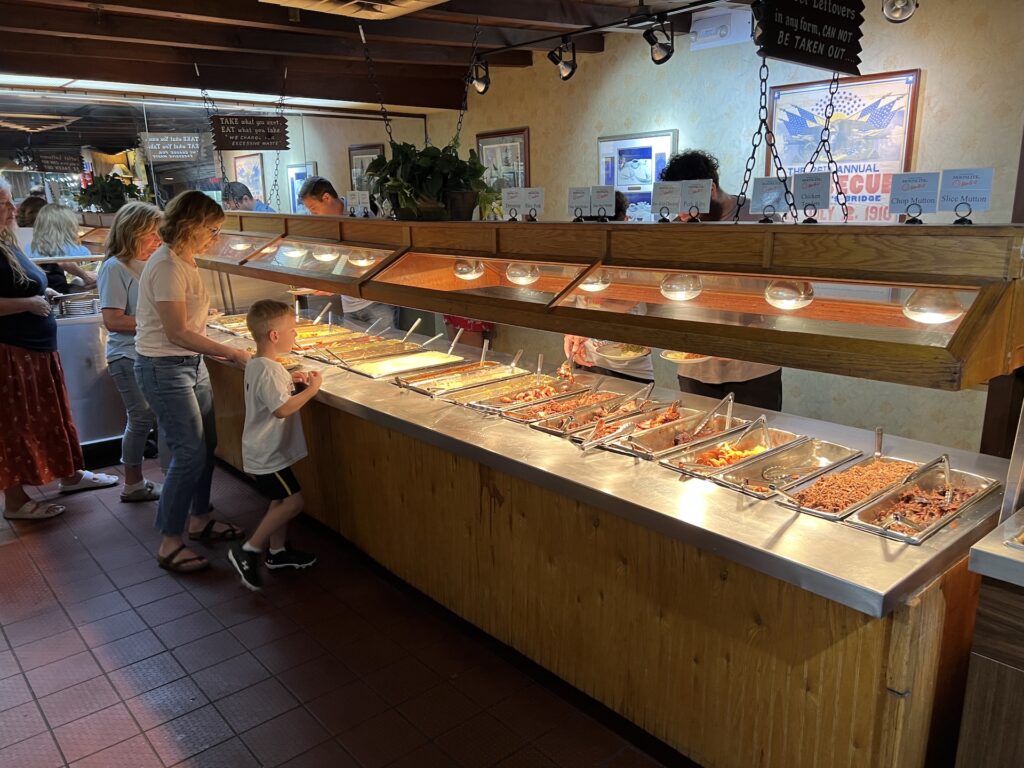 Make sure to try the chopped or sliced brisket as well as the chopped mutton.
Don't forget the dessert bar. The blackberry cobbler is a must.
2840 W Parrish Ave
Briarpatch
Crazing a good steak and baked potato? Briarpatch is known as one of the top places in Owensboro to get a steak. And it's for good reason.
Last time I went, I got the filet and shrimp and it was cooked to perfection. The juices and tenderness of the filet with the blend of spices they use was delicious.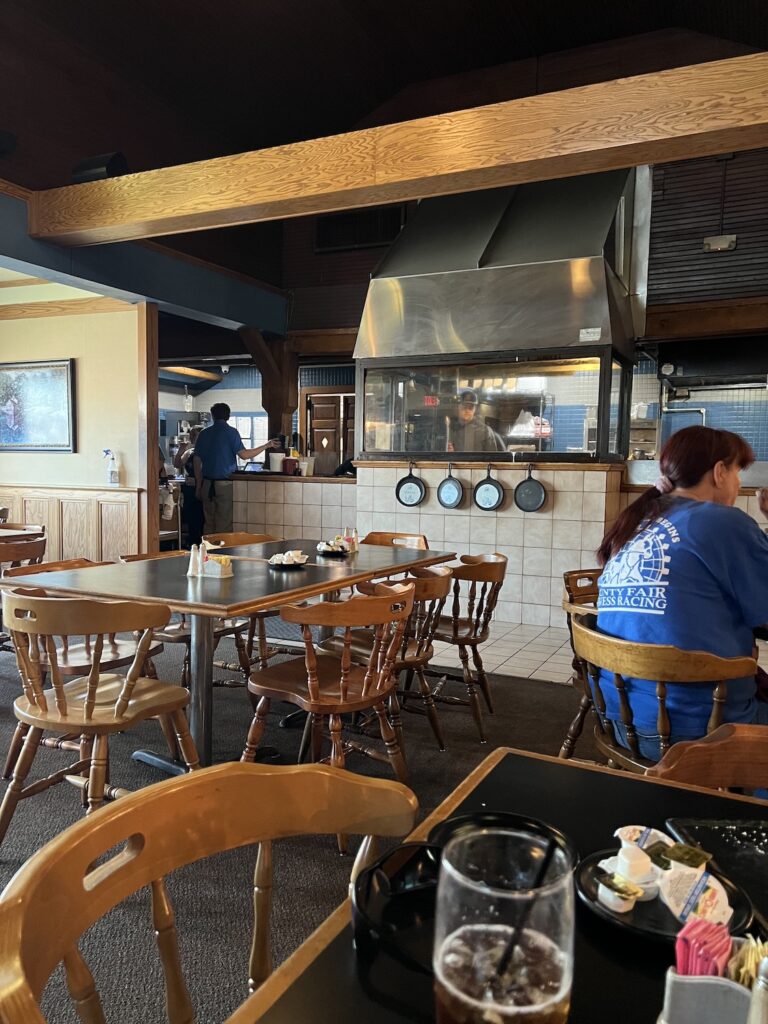 With every entree, you get the large and fresh salad bar. It's a local favorite.
2760 Veach Rd Owensboro, KY
Niko's Bakery
Niko's is a European style bakery that offers all kinds of sandwiches, soups and pastries. They typically have daily specials that feature a one of a kind unique sandwich.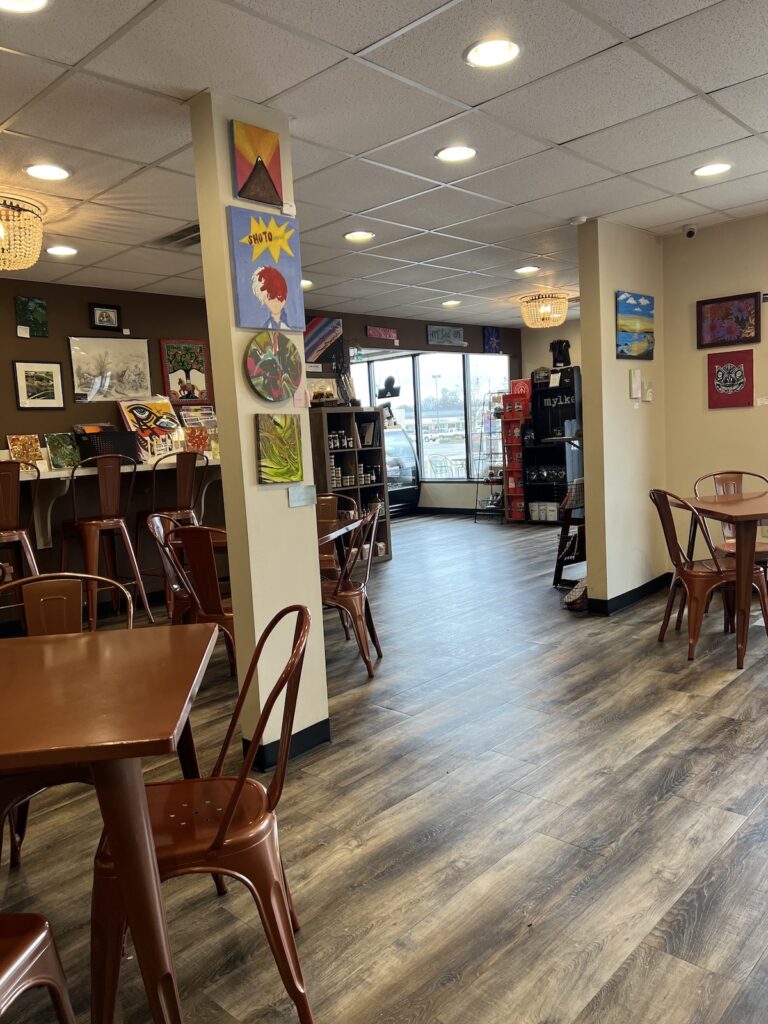 The two desserts that are our favorites and a must try are the Ekmek and Galaktoboureko.
601 Emory Dr, Owensboro, KY
Things To Do In Owensboro: Day trips
Holiday World
Holiday World is the ultimate destination for fun and thrills.
Located in Santa Claus, Indiana about a 40 minute drive north of Owensboro, this fun amusement and water park promises an unforgettable adventure for guests of all ages.
You get to experience huge roller coasters and refreshing water slides to beat the summer heat.
The amusement park is holiday themed and features exhilarating rides and attractions.
One good thing to note is you get free sunscreen and free soft drinks all day long.
Mammoth Cave
Located in South Central Kentucky, Mammoth Cave National Park has the longest cave system in the world. There are over 400 known miles of passageways and more are discovered occasionally.
The underground caves have been carved by the forces of nature over millions of years. The nearby Green River flows through the cave and has created many passageways over the years.
As you walk into the historic entrance you see all kinds of geological formations, read about the ancient history and early humans.
Mammoth Cave is Kentucky's only National Park and it's a must visit for anyone in the area.
Ellis Park
Kentucky is known for its horse racing and Ellis Park is one place to go to satisfy your horse racing and gaming.
Along the scenic banks of the Ohio River in Henderson, Kentucky, this iconic racetrack and gaming destination offers a unique horse racing experience.
From the racing hooves of thoroughbreds to the electrifying atmosphere of the gaming floor, Ellis Park is a place where your adrenaline will rush.
Whether you're a seasoned racing enthusiast or a first time visitor seeking gaming thrills, Ellis Park has something to offer everyone.
Ellis Park is located at 3300 US Hwy 41 N in Henderson.
Conclusion
Owensboro offers so many neat and fun things to do for everyone. The world famous parks and playgrounds, bluegrass music, amazing and unique local BBQ and some of the best bourbon this side of the state.
If you are traveling to Owensboro and looking for places to see and things to do, I hope this Owensboro City Guide helped you.
Am I missing anything to do in Owensboro on this list? Let me know!