Owensboro is a food lovers dream. There's plenty of culinary options and places to eat in the city. From the unique flavors of Western Kentucky BBQ to local eateries serving the best homemade sandwiches, Owensboro offers a restaurant for everyone.
In this guide, we're going to explore some of the best restaurants in Owensboro. I know you're getting hungry, so let's get to it.
Best Places to Eat in Owensboro, Kentucky
With Owensboro being a pretty big city and the fourth largest in the state, we've decided to break this down into categories.
We haven't included every restaurant in town. Our goal is to highlight a lot of the local eateries that make this town special and what we think you would enjoy.
Let's get started. Here's our guide to the best places to eat in Owensboro:
Where to Eat Downtown
The downtown area is where the majority of the restaurants we'll be talking about are located. I'm not going to lie, our downtown is awesome. The amazing riverfront combined with the unique and local food options, events all summer long and awesome places to stay, make this city one of a kind.
Don Mario – Don Mario's is a Mexican restaurant offering authentic and traditional food that you would find in Mexico. They feature a wide range of tasty dishes such as tacos, seafood, salads and more. My personal favorite is the chimichanga. When we are downtown and craving Mexican food, Don Mario's is our go to.
City Walk – Located in downtown Owensboro, City Walk is a local eatery offering a variety of unique foods. From the chicken cajun pasta to the steaks and burgers, City Walk serves up delicious food. The inside is small so expect a wait during busy hours, but there's also a first come first serve patio outside if the weather is nice. Also, the buffalo mac and cheese is a pretty good thing to try.
Colby's – One of Owensboro's most popular and best restaurants is Colby's, a local diner style that's casual and has been in Owensboro since 1987. You must be doing something right if you've been open for 36 years! They serve up delicious steaks and burgers using high quality aged meats. They typically have a special menu item as well. Also, if you visit for early supper between 4-6pm, then you can get a full course meal with entree, dessert and drink for under $20. If you're in Owensboro, then Colby's is a must visit restaurant experience.
Where to get BBQ?
Owensboro is known for its bluegrass music and BBQ. We are the only city offering the best barbecued mutton and pork in the state of Kentucky hands down. If you are craving BBQ while in Owensboro, then call yourself lucky because you're about to experience a flavor so unique and delicious you'll be back for more. Welcome to the BBQ Capital of the World, Owensboro Kentucky.
Moonlite BBQ – A must go to restaurant while in Owensboro and my personal favorite, Moonlite Inn BBQ offers a delicious fully stocked salad bar, buffet with meats such as mutton, pork bbq, brisket, ribs, chicken and more as well as a dessert bar with an assortment of pies and sweet treats. The blackberry cobbler is delicious and a must try after your main course.
Ole South BBQ – Not as big as Moonlite but comes in a close second for me. Ole South BBQ offers a buffet with Owensboro's staple meats such as pork bbq, chopped mutton and burgoo. They also have a salad bar as well as desserts, cobblers and ice cream. There might be a wait at Ole South due to it's smaller size but it's worth the wait.
Where to get dessert?
After you are finished with your BBQ from Moonlite or steak from Colby's, it's time to complete your day with a tasty treat. Owensboro has a small but mighty selection of dessert shops in town. Lets take a look at some of them to help your sweet tooth.
Rolling Pin – A staple pastry and donut shop in Owensboro that has been around since 1947. Being around baking desserts for over 75 years, then you must be doing something right in the community. Rolling Pin offers a larger selection of donuts, pastries, muffins and more. Make sure stop by this local donut shop.
Lic's Deli & Ice Cream – Lic's is a regional sandwich and dessert shop that offers a wide variety of ice cream and treats. They've been around since the 1950s in the area. Their tasty ice cream is very creamy and delicious. I'd recommend one of their homemade chocolate chip ice cream sandwiches.
Niko's Bakery – Niko's is one of the few places in town you can grab a unique and tasty sandwich for lunch, coffee for your afternoon pick me up and a pastry for your sweet tooth cravings. Niko's is a European style bakery and has it all. The Galaktoboureko is our favorite dessert of choice and is highly recommended.
Where to get lunch?
Owensboro has a large selection of restaurants you could choose to get lunch. Here are a few of our favorite lunch stops while out and about in the city.
Niko's Bakery – I'm going to add Niko's to this list again as it's one of our favorites and a must try restaurant while in town. They offer a wide range of fresh and unique sandwiches as well as soups. It's a perfect spot to grab lunch while in town. They feature unique daily specials and offer them on freshly baked bread. Niko's is delicious and is highly recommended on our list.
Papa Grande – One of our favorite and most popular Mexican restaurants in Owensboro is Papa Grande. We typically visit the location on the East side off Hwy 54. They offer a wide range of Mexican dishes, tacos and more. They even have a pretty good kids menu with tacos and chicken fingers. When we are craving Mexican on this side of town, Papa Grande 54 is our go to. I always get the Salada Chimichanga and it's delicious.
Jordy's – I'm going to add another Mexican restaurant on the must visit lunch spots in town because it's so unique. Have you ever been to an all you can eat Mexican buffet? If not, you should check it out. You can eat unlimited tacos, chimichangas, rice, beans, guacamole and more. They offer the buffet Monday – Friday 10:30 to 2:30.
Where to get unique Owensboro food?
These are the foods you must try while in Owensboro.
Burgoo – It's typically a mix of meats including mutton, pork, beef and chicken all mixed together with vegetables. It's an Owensboro classic. You can find it at Moonlite or Ole South.
Hot Brown – Known for the southern flavors, it's usually on an open faced piece of bread with turkey, ham and bacon with a creamy sauce. You can get Gabe's Famous Hot Brown at City Walk.
Mutton – Lamb meat served at most BBQ joints in town such as Moonlite and Ole South. It's definitely worth a try and what Owensboro BBQ is known for.
---
Owensboro is full of culinary treats. We offer the best BBQ in the state and the best unique and local eateries. This guide was put together to help you find the best places to eat in Owensboro.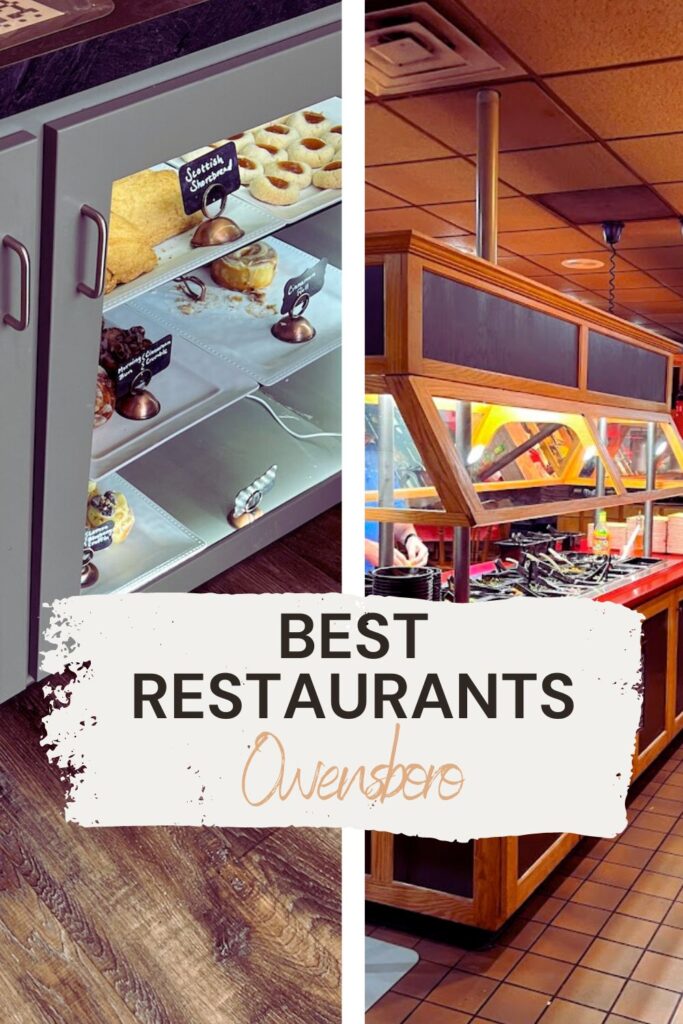 What do you think of our list of Owensboro restaurants? What else should we add?