We are known for our bluegrass music, BBQ and bourbon. Every year, we hold a BBQ festival where the best cooks fire up their smokers and showcase the amazing and unique barbecue flavors of our city.
We have a lot of good pork and beef barbecue but our secret sauce lies in our barbecued mutton and burgoo.
Mutton is sheep over 1 year of age and is used for meat. The mutton is served chopped or sliced and has a been cooked over a hickory smoked fire pit.
Burgoo is a soup style dish that contains a mix of mutton, chicken and pork. Each restaurant has their own style of burgoo and use a range of vegetables such as carrots, beans and potatoes.
Are your taste buds ready? Lets dive into the list of the best BBQ restaurants in Owensboro that will satisfy your hickory smoked cravings.
All BBQ restaurants below are also featured on the Western Kentucky BBQ trail.
Table of Contents
It's time to break down all the BBQ restaurants in Owensboro and find the best one. Lets go!
Moonlite Inn BBQ
Moonlite Inn Bar-B-Q is the most famous barbecue restaurant in Owensboro. It is well known and has been a staple restaurant in the area since 1963. Past presidents and famous celebrities have often visited.
The restaurant has been selling delicious mouth watering barbecue on its buffet for decades. It has earned many awards and has become a top barbecue destination in the Western Kentucky area.
It's known for its hickory slow cooked barbecue meats including pork, mutton, beef and chicken. All are seasoned with a variety of spices and homemade sauces.
The menu features a variety of meats, sides and desserts. However, if you plan on going to Moonlite (which I highly recommend you do), then you must get the buffet to get the full experience.
The buffet is full of southern sides including green beans, mac n cheese, mashed taters and more. The meats include sliced brisket, chopped pork, chopped mutton, chicken and more.
My recommendation is to try small portions of each side and pace yourself so you can try the unique and delicious flavors of it all.
And trust me, you'll want to save room for the hot blackberry cobbler with a scoop of ice cream. There's plenty of pies, banana pudding and cobblers after you finish your main course.
With the family friendly atmosphere, the delicious and flavorful food, I recommend Moonlite BBQ as the best BBQ restaurant in Owensboro. It's also my personal favorite and I love to eat there when I'm on that side of town.
Website – https://www.moonlite.com/
Ole South Bar-B-Que
I've only visited Ole South on a few occasions but every time I leave fully satisfied.
The buffet is not near as large as Moonlite and there isn't as many selections.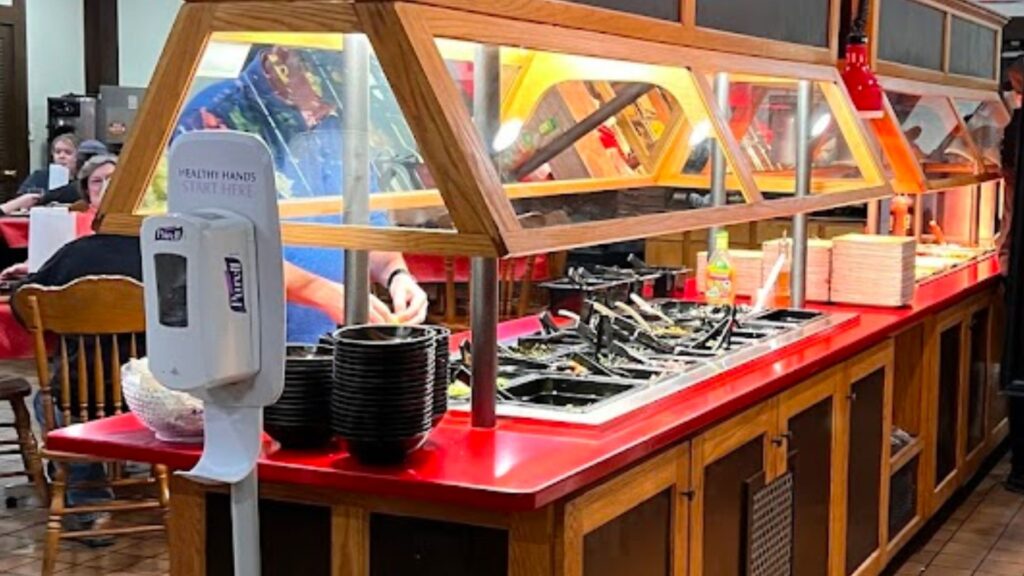 I do think Ole South doesn't get the credit that a lot of people give it. I guess that's why it's known as "Western Kentucky's Best Kept BBQ Secret."
However, everyday when I drive by, the parking lot of jam packed of folks. When I've been inside, we typically have a small wait as the building isn't large itself and the tables are tightly packed together.
Don't let the small buffet and possible wait times scare you. Ole South has a really good selection of tasty meats including pork, chicken, mutton and beef. The buffet is filled with all the southern sides you could ask for.
Website – http://olesouthbbq.com/
Old Hickory Bar-B-Que
Old Hickory is the oldest barbecue restaurant in Owensboro, having been serving delicious meats since 1918. It has won Pitmasters awards and been featured in many magazines and TV shows.
This one is a close contender to the best barbecue but doesn't quite hit the mark.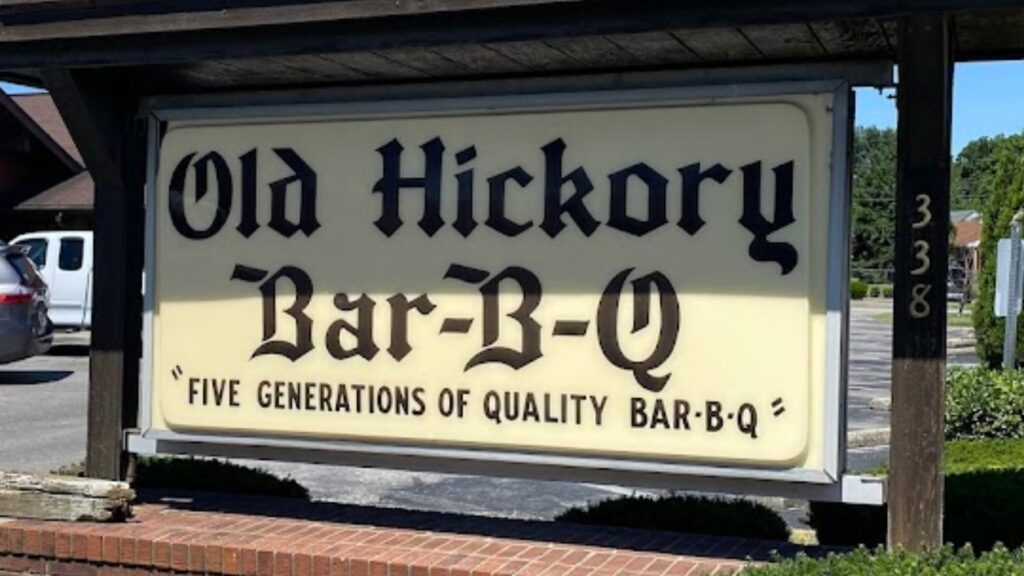 Old Hickory Bar-B-Que serves a variety of meats including pork, chicken, beef, and mutton. Sides include cole slaw, green beans, potato salad, baked beans and more.
They do not have a buffet like Moonlite so you are tied down to one entree.
The meats are smoked daily over a hickory fired pit, giving the barbecue it's famous tenderness and taste.
Old Hickory Bar-B-Que serves a vinegar based BBQ sauce and a lot of folks don't like that. If you are not a vinegar BBQ sauce fan, then I suggest you stay away from it.
Website – https://www.oldhickorybar-b-q.com/
Other places to get BBQ in Owensboro
City Walk – BBQ pork sandwich
Lure Smoke Shack – BBQ ribs
The Miller House – Bourbon BBQ Chicken
Conclusion
As you can see, Moonlite BBQ is my personal favorite for the best BBQ in Owensboro. The huge selection on the buffet of their sides and smoked meats cannot be beat.
Owensboro is famous for its BBQ, bluegrass music and bourbon. If you are in the area and looking for a local BBQ restaurant, I hope this list helped you out.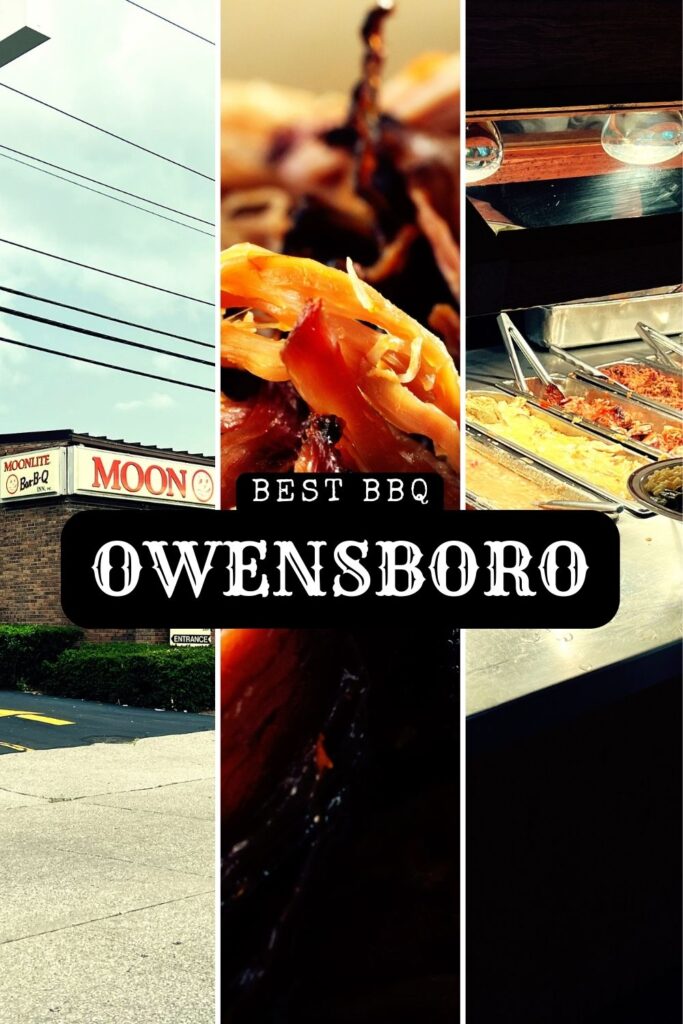 Comment below and let me know your favorite BBQ restaurant in Owensboro. What on the list did I miss?