199 W Veterans Blvd
Owensboro, Kentucky 42301
(270) 687-8333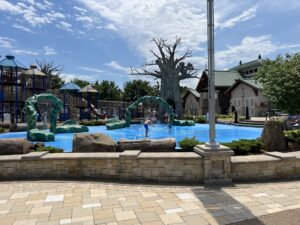 In 1816, Smother's Park was established as an official Owensboro city park. It went through a multi million dollar renovation in 2012 to make the riverfront an attractive downtown option for visitors and locals.
The playground at Smother's Park, called Lazy Dayz Playground, has won an award for the top playground in the world. It features multiple slides, crosswalks, swings and more. It's perfect for kids of all ages from infant to teens.
The splash pad is open seasonally from Memorial Day through Labor Day.
Three fountains are in the park that feature a show every 15 minutes. There's also a cascading waterfall right on the riverfront during season.
During the holiday season, they light up downtown with a huge array of Christmas lights tuned to the music.
Park Hours: 5:00 a.m. – 12:30 a.m.
Lazy Dayz Playground Open 7:00 a.m. – 10:00 p.m.
Spray Park – Open 9:00 a.m. – 9:00 p.m.
Memorial Day Weekend through Labor Day weather permitting
Concessions – Open Daily 11:00 a.m. – 8:00 p.m. Memorial Day weekend through Labor Day and Special Events
Other things on site include: pavilions, restrooms, concessions, overlook areas and riverfront swings/benches, long riverwalk, handicap accessible,